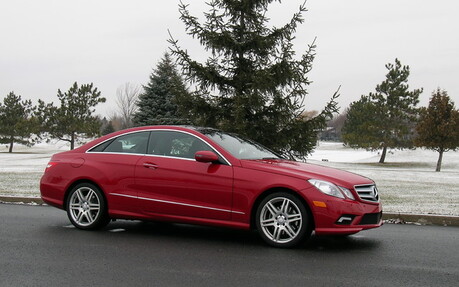 Mercedes E-Class Coupe
Mercedes-Benz recently set out to simplify its range of models to help consumers understand their offering. It seems that many people have had a hard time distinguishing between all their classes of models. With this in mind, the manufacturer introduced the E Coupe, a two-door variant of their E-Class sedan, part of their recently released new generation. In a sense, this vehicle replaces the CLK, which has disappeared from the catalogue. It's a step back, because it actually used to be called the E-Class Coupe.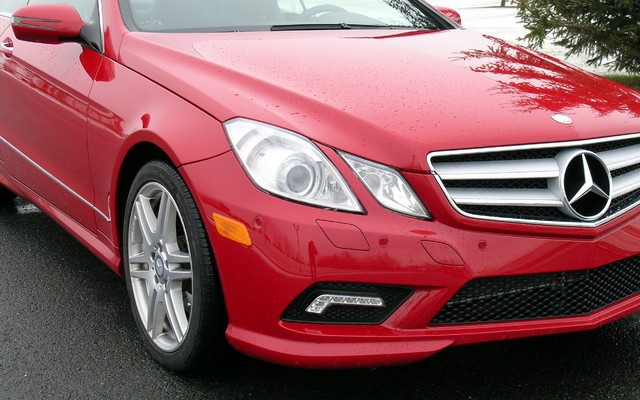 Why a coupe?
The AMG version aside, the E-Class sedan simply is not as sporty as the C-Class, though it offers much more space and supreme comfort – and that's exactly what E-Class buyers are looking for. That said, I must point out that the coupe is radically different from the sedan in terms of style and overall vibe. This is particularly true when the body is all decked out in an extroverted colour, like the "fire opal red" of our test model. This car definitely turns heads, and losing the two back doors has done it a world of good! Sure, in doing so you give up some space and practicality, but it certainly adds appeal for people who value style, passion and emotion.
The Mercedes-Benz E Coupe shares many of its mechanical components with the sedan, but it's shorter, narrower and its wheelbase is smaller. It's also lighter, an advantage for sporty performance. Some terrific engines can be found under the hood. The E350 offers a 268-hp 3.5-litre six-cylinder engine coupled with an automatic seven-speed gearbox. (Incidentally, that's the only transmission available for this line of products.) People who value great performances will be well served by the 5.5-litre V8, which produces 382 horsepower and 391 lbs.-ft. of torque. Given its weight advantage, the E-Class Coupe equipped with the V8 is something of a beast, and according the manufacturer it can do 0-100 km/hr in about 5.6 seconds. Finally, since no AMG version is presently offered, the 518-hp 6.2-litre V8 is reserved for sedan. At least, that's how it is for now, though I'm willing to bet that Mercedes will rectify this situation soon enough!