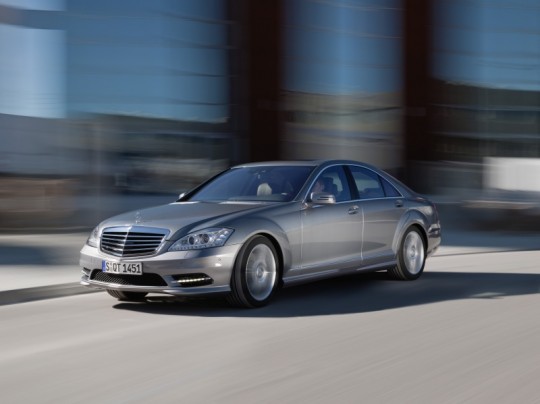 Mercedes-Benz and smart drivers are particularly satisfied, according to the latest J. D. Power APEAL survey about the best vehicle concept. In this exhaustive customer survey the Mercedes-Benz S-Class was awarded the highest number of overall points for the third time running, and is therefore not only the best car in its segment, but at the same time also in the entire US market. Other winners in their segment were the SLK and, for the first time, the smart, which its buyers appreciate as the best car in the Sub-Compact Cars segment. This result by the internationally renowned market research institute underlines the high level of Mercedes customers' satisfaction with the quality and design of their new cars.
The 2009 APEAL study ("Automotive Performance, Execution and Layout Study") by the market research institute J. D. Power reflects how satisfied car buyers were with their new cars after driving them for three months between December 2008 and February 2009. Around 81,000 new car buyers delivered their verdict on a large number of aspects in a detailed questionnaire. These included driving characteristics, exterior and interior design, operating functionality, stowage space, but also e.g. also the noise made when closing the doors.
A maximum of 1000 points was achievable. The Mercedes-Benz S-Class scored 887 points – the highest number in any of the categories. This makes the luxury saloon the best car in the USmarket, as well as the measure of all things in the large premium car segment. The S-Class therefore easily defended the first place it had already achieved in 2007 and 2008.
The Mercedes-Benz SLK was also the winner in its class, gaining 28 points after the last model facelift. Other improvements were achieved by the M-Class (plus 10 points), the R-Class (plus 7 points) and the C-Class (plus 6 points). The overall average achieved by the Mercedes models was 841 points – an outstanding result. In this study, car buyers made very positive mention of the fact that in their view, Mercedes-Benz has made very substantial progress in reducing fuel consumption and therefore carbon dioxide emissions.
The smart was represented in the APEAL study for the first time, and the two-seater immediately took first place in the Sub-Compact Car segment
This outstanding result in the APEAL study means that within just a few weeks, and for the second time this year, Mercedes-Benz has emerged a winner in a customer survey conducted by the well-known USmarket research institute J. D. Power and Associates. Only recently, top marks for highest product quality were achieved in Germanyfor the Customer Satisfaction Index (CSI) survey, which is regarded as the perfect buyers@ guide. First place overall across all categories was won by the Mercedes-Benz CLK, which also took first place in the sports car rating. The Mercedes-Benz E-Class was able to prevail in the luxury segment, taking first place in this significant ranking.